June 2010
Listen to my voice...

voice (vois)
noun


an instrument or medium of expression





Coming Soon: Rydia will visit you on an entirely new realm: voice-over! Commercial, narration, audio books, work-out and cooking tutorials, those annoying phone systems, and more!



"The voice is a celestial melody."
"The human voice is the organ of the soul."
-Henry Wadsworth Longfellow


"I pray thee gentle mortal, sing again,

Mine ear is much enamoured of thy note..."

-Tytania, Queene of Fairies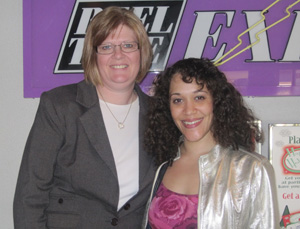 April 2010
To the South!



Four plane rides, two performances, and a pretzel in an airport hanger later...

Rydia

brings

The Yellow Dress

to Little Rock AFB

. On the left is Linda Benjamin, SARC Program Assistant.

P.S. Stop by the delightful restaurant Vieux Carre if you get a chance!