Want to see the Nintendo Feud questions & answers? Check back soon!

Congratulations to #TeamZelda for winning!
game show art design by
wheel genius
and slightly modified by Miz Sylver
bwahaha
PowerPoint base design by
Youth Downloads
if you have the money, please donate to Youth Downloads - their site is amazing!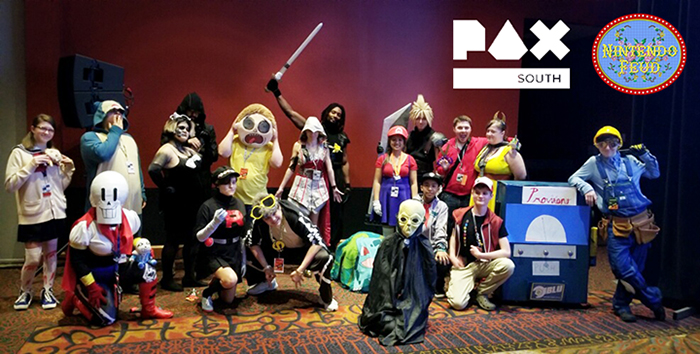 Nintendo Feud

We asked the gaming community to answer questions about popular Nintendo series. Join the audience in trying to guess the top answer, or maybe you'll be chosen to battle it out on stage for Team Zelda or Team Meowth, the winning squads of last year's PAX South and PAX East.. Brought to you by your favorite hosts from StreetPass Long Island, Boston and Collegiate Starleague. Prize for the best cosplay!

PANELISTS:
Sean M. Sullivan [Admin, StreetPass Long Island], Miz Sylver [Chief Event Organizer, StreetPass Boston], Debbie Lee [Admin, StreetPass Long Island], Kaitlin Teniente [Community Coordinator, Collegiate Starleague]
Everyone who filled out a survey
All the contestants
Amazing audience
Nintendo for prize support
Carol & Tim from UPS
Mystery Person for PowerPoint
Ana Banana, Kevin, and Mel
Penny Arcade and PAX Enforcers!
Hope to see you next year!
Listen to a
podcast
with The Wolf Doctor reviewing PAX South!