January 2018
PAX - Southern Uprising

Once again, you can stalk Miz Sylver during TWO Panels at PAX South in San Antonio, Texas!

StreetPass Game Show
Friday January 12th at 9:00 pm
Armadillo Theatre
hosted by Sean M. Sullivan, Debbie Lee from StreetPass Long Island, Special Guest JV from The Switchcast.

Esports is for Everyone
Saturday January 13th at 11:30 am
Bobcat Theatre (How did Miz Sylver end up in a kitty theatre again?)
hosted with Junae Benne from Black Girl Gamers, with Evan from Smash Studios and his Twitch buddy D1, and locals Sam Elizondo of LFG Cyber Cafe and Harold Bratcher of SAN LAN.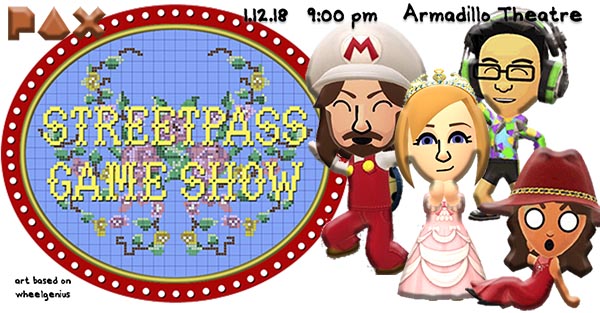 Check back soon for the
StreetPass Game Show Survey!